Okay so nothing special happened on Friday ,
so we can just completely skip that day .
Saturday afternoon ,
Me and Shelby decide to hit up first colony mall
I get dressed , and away we go . . .
We see people we know ,
talk to them for a while . .
hit up a couple stores .
Do some shopping .
Took a picture in Forever 21
We walk into the food court
and who we see :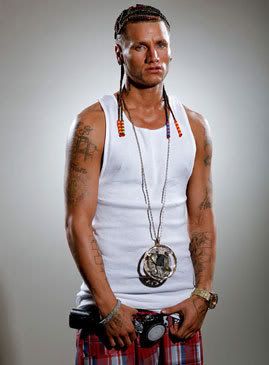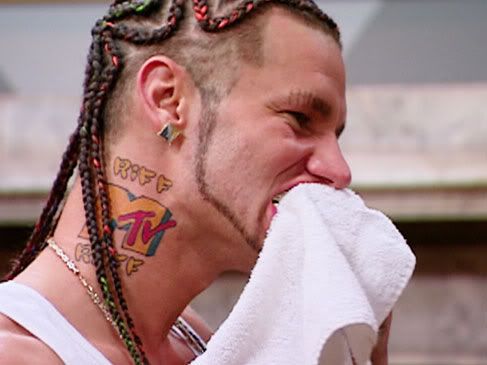 His name is RIFF RAFF , no seriously .
He was season 2 of MTV's G's to Gents .
He's the one with the skittle braids
from Houston .
Yeah, a real fukn lame :)
Anyways, so him & his friend stop us
And try to holla at us .
Inside , Im laughing balls
But I just smile on the outside
So, Shelby talks to RIFF RAFF
and i talk to his friend
Everyone exchanges numbers
( I gave his friend a fake number )
The reason he was at the mall ?
He had all these Bootleg CD's
of him rapping
and he was trying to sell them
to people at the mall for 5$.
I did mention that he's a lame, right ?
Anyways ,
We walk around the mall some more
I run into my homegirl Devin
in the apple store .
We take some pictures :
After that got old ,
we walked around the mall some more
and we run into our homeboys :
Robert, Kalvin, Samir, and Ty
They said they got green
and want to smoke with us ,
well more like me ,
because Shebly stopped smoking .
So we get in Samir's car
hot box ( putting all the windows up )
and blow like 4 blunts .
So, at this time ,
the mall is closing .
So we go over the movies .
We check the times for Harry Potter
10.00 , 10.35, 11.30
Mind you we got to the movie at 9;30 .
We all laugh, and talk, and times gets away from us.
These girls come up to me
saying how cute and different
my outfit is
BlaBlaBla
I smile and say Thank you
and they go away
Then Adrian hits me up ,
and tells me he is coming to the movies .
( Adrian is this guy I have been talking to for awhile )
Okay I know some of you are confused .
I have a boyfriend , so why am I talking to someone else .?
Well, Adrian knows about Corey.
Kinda, well yeah . lol
But anyways ,
So I wait for him .
Well when Adrian finally does come ,
he sits like 500 feet away from me
and calls me , like where are you ?
I tell him and he still just sits there
with his lil homeboys .
Im like okay?
He was acting really really stupid,
so I just decide to buy our tickets
and go in .
Well, did i mention time got away from us ?
So it was 10;45 . .
and the only one left was the one at 11;30 .
So we get the 11.30 one
and Me, Shelby, and Devin
all post up .
THIS IS WHERE IT GETS INTERESTING
Did you see my outfit in the picture?
banging much?
So of course ,
I was getting haters :)
This group of people walk by
and one boy asks me
if I have on skinny jeans
I say no ,
there are leather tights
and they commence to whispering
Im used to this, so it didnt phase me
and me, Devin, and Shelby start laughing
and talking somethign else
Next thing you know:
Some insignifcant lil girl
says:
"BITCH IF, YOU GET SOMETHING TO SAY,
SAY IT IN MY FACE"
I look around
because I know this thirsty trick aint talking to me
But, guess what, she is .
So I go off .
If you know me ,
you know I have a BAD TEMPER
and you know when I get HEATED,
it takes a longgg time to cool me down
Basically ,
she picked the wrong girl .
I start walking toward her,
talking mad loud shit .
She starts BACKING AWAY
and go into the parking lot
and shes talking shit, the whole time shes doing this .
Im just like is this chick serious?
All the lil lames
surround us ...
screaming whatever
I think soemthing like
"HIT THAT HOE" or whatever
lil kids be saying . .
She leaves ,
and comes back .
Looking like,
she's ready .
So Im ready, too .
PAUSE .
I know the consquences of these actions .
Im going to wind up in a police car
handcuffed
and i WILL BE THINKING IN MY HEAD :
That dumb chick wasn't even worth it .
PLAY .
Basically, the girl talked more mess
and left in a car .
Silly trick .
Anyways ,
so we head into the movie .
Robert starts getting mad loud
and everyone around starts SHHH'ing us .
It was hilarious
Those white people were pissed!
So 3 of them go out the movie
to tell on us
So we all move to the front
and try to look discreet haha!
The police come in,
but they dont see us,
so they leave .
OKAY,
Harry Potter
was LAMEEEEEE
Beyond LAMEEEEE
It was all about love potions
and Harry Potter's missons
and it was BORING as hell
Then Snape kills Dumbledore
( I shouldnt have spoiled it for you
because if you are watching the movie
you really should have read the book )
and I go to use the bathroom
I was gone maybe 2 minutes
I come back, and the credits are rolling .
WHAT THE HELL ????!!!!
Ugh.
That's not the end of it .
I look at the time,
ITS 2;30 IN THE MORNING!
You cant be serious.
How long was that movie?!
Thats not the end of it .
SHEBLY AND MY PHONE IS COMPLETLY DEAD .
No numbers, no nothing .
We arent going to call our parents, of course .
So we call anyone & everyone whose numbers we know by heart .
NOBODY PICKS UP. what do expect,
it's 2.30 AM !
so me & Shebly leave AMC
and go to the CVS right across the street
We get some brain food
and sit down at the chairs
and eat the food
We arent really tripping
We laugh, we talk,
about sex, love, relationships,
everything under the sun .
For Hours .
Next thing you know,
it's 6 am .!
THE SUN'S COMING OUT !!!
We walk over the mall ,
trying to catch secruity .
We catch him ,
and we have to wait until he gets off at 7 am .
He directs us to the restroom loungue couch area
and we lay there .
Trying to go to sleep .
UNSUCCESSFULLY
because those couches were harrrrdd !
Next thing you know,
he's off work .
and we both come back to my house .
Shelby goes to sleep .
I dont .
I eat,
I watch TV,
check myspace .
But I dont sleep .
Shebly charges her phone,
and who texts?
RIFF RAFF !!!
He wants to come to my house,
hahahahahahaha .
We give him directions
to a big muscular black man's house
in richmond
and tell him to walk straight in the house
because we're both in the shower... together
MUAHAHAHAHAHAHAHAH ...
his lame ass falls for it ...
I swear, he's stupid .
He gets there, and is EXTRA PISSED .
He calls us dumb bitches
for making him drive all the way
from Houston to Richmond !
Hahahahahahaahaha .
Anyways, we eat hot fries. check our myspaces.
blablablblabla
Nothing interesting happens ....
UNTIL
Our friend SUNSHINE hits us up around 8pm
telling us to come get drunk with her, Ty, Jackie, and Jef
we oblige
we go get 2 boxes of beer
( for them, because I hate beer )
and 2 bottles of wine
We go to this area called 'AREA 52'
( its right behind Chelsea Harbour )
and we drink .
Okay, somehow, I drink both the bottles of wine
in like 20 minutes .
so, Im drunk .
Like off my ass, drunk .
It's time for everyone to go home because Jef has a curfew of 11pm .
They drop me off .
Did I mention I was drunk ?
I get in the house .
and THROW UP 5 TIMES ON THE CARPET IN FRONT OF MY STAIRS .
You know the area in a black person's house
WHERE NO-ONE'S SUPPOSED TO GO???
YEAH , I throw up there .
ALL OVER THERE .
If you were PAYING ANY ATTENTION
you'd know what color it was . . .
that's right !!

RED
because of the Hot Fries
I try my luck at cleaning it up ,
but I cant .
because Im wayyyy too messed up .
So I go upstairs and knock out .
I wake back up at 9am
and go downstairs,
and see the end of my world .
THERES RED SHIT EVERYWHERE .
On my stairs,
In the kitchen ,
On the floor ,
On the carpet ,
On the DOOR .
EVERYWHERE .
My carpet is OFF-WHITE
yeah, Im fucked .
Real fucked .
I spend an entire HOUR
trying to scrub off the red ,
yeah,, it's not happening .
So yeah .
Im fucked .
My mom hasnt woke up yet .
So im in my room, blogging .
Im expecting at any moment ,
for her to come in here
and shoot me in my head .
AND THATS THE END OF IT.......
got damn .
the life of a motherfucking teenager .